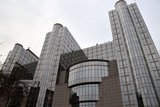 © Kevin Bergenhenegouwen
| | |
| --- | --- |
| datum | 10 oktober 2019 15:45 |
| plaats | Brussel, België |
| locatie | Altiero Spinelli (ASP) |
| organisatie | European Parliamentary Research Service (EPRS) |
The European University Institute (EUI) cordially invites you to participate in a special event on "The State of the Union after the Juncker Years", organised in cooperation with SciencesPo and the College of Europe. The conference offers an early opportunity to review and assess the EU inter-institutional dynamics during the Juncker years (2014-2019).
It will be opened by the President of the EUI, Prof. Renaud Dehousse. Among the distinguished speakers: Jim Cloos, Deputy Director for General and Institutional Policy in the General Secretariat of the EU Council of Ministers and Maria José Martínez Iglesias, Director for Legislative Affairs in the Legal Service of the European Parliament. The concluding keynote speech will be delivered by the Secretary General of the European Parliament, Klaus Welle.
The presentations will be based on two major surveys conducted as part of 'The European Commission: Where now? Where next?' project, aimed at identifying legislative trends and examining the outgoing Commission in historical perspective. The project is headquartered at the Robert Schuman Centre for Advanced Studies at the EUI.
Location: Library Reading Room, 5th floor, Altiero Spinelli Building (ASP 05D)
Last updated: 07-10-2019
-

European

University

Institute

CENTRE FOR EUROPEAN STUDIES AND COMPARATIVE POLITICS

%

Brugge

Workshop

the State of the Union after the Juncker years

Jointly organised by the EUI, SciencesPo and the College of Europe

Library Reading Room (ASP-05D), European Parliament, Place du Luxembourg - 1047 Ixelles, Brussels

¦ Introduction

The conference offers an early opportunity to review and assess the European Union's inter-institutional relationships in the Juncker years (2014-2019). It will report findings from two major empirical projects conducted as part of 'The European Commission: Where now? Where next?' project on the internal operation of the Commission since 2014, both conducted with a number of partners and headquartered at the Robert Schuman Centre for Advanced Studies at the European University Institute. The conference will bring together scholars and key policy-makers from the European institutions to discuss the performance of the Juncker Commission and how it compares with its predecessors. The aim is to identify legislative trends, as well as to examine the outgoing Commission in historical perspective.

The discussions will be based on two major surveys:

1.

The Observatory of European Institutions

The Observatory of European Institutions analyses the logic that determines decision-making in the European Union. Drawing on all definitive legislative acts adopted by the European Union since 1996 onwards (around 3500 acts), and on interviews, the Observatory of European Institutions examines, the impact of major political changes such as new treaties, institutional reforms, or the ongoing economic and political crises, and on each policy sector. Conducted by a multinational team, led by Renaud Dehousse (EUI), and Olivier Rozenberg (Sciences Po), the project aims to provide a detailed analysis of the European Union as a political actor.

2.

The European Commission: Where now? Where next?

This project investigates and assesses the impact of the procedural and organisational changes enacted by the Juncker Commission on entering office in 2014. Drawing on original source material collected in 2018 from an online survey (n=6,500), more than two hundred interviews, and five focus groups, it examines understandings among Commission staff of the 'political Commission'— the term used by the Commission President to characterise his Commission -- and assesses the effects of the 'new working methods ' introduced to ensure delivery of his ten priorities. Conducted by a multinational team, led by Hussein Kassim and Sara Connolly, UEA, and including Michael W. Bauer, German University of Administrative Sciences, Speyer, Pierre Bocquillon, UEA, Renaud Dehousse, EUI, Brigid Laffan, EUI, and Andrew Thompson, University of Edinburgh, the project aims to provide the definitive assessment of Juncker's experiment with a new model of leadership and organisation.

Scientific committee: Olivier Costa (Sciences Po Bordeaux and College of Europe), Renaud Dehousse (EUI), Hussein Kassim (University of East Anglia) & Olivier Rozenberg (Sciences Po Paris)

¦ Provisional Programme

15:45

Registration

16:30

Introduction

Renaud Dehousse | President, European University Institute (EUI)

16:45

EU institutions: The Inside Logic

Speakers:

Hussein Kassim | University of East Anglia | The "Political" Commission

Olivier Costa | Sciences Po Bordeaux and College of Europe | The VIIIth Parliament and the Council

Stéphanie Novak | University of Venice | The VIIIth Parliament and the Council

Discussant:

Jim Cloos | Deputy Director-General for General and Institutional Policy in the General Secretariat of the EU Council of Ministers

17:30 The law-making process: What (if anything) has changed?

Speakers:

Selma Bendjaballah | Sciences Po Paris | Law-making: A sectoral analysis

Olivier Rozenberg | Sciences Po Paris | Has law-making become more difficult?

Discussant:

Maria José Martinez Iglesias | Director for Legislative Affairs in the Legal Service of the European Parliament

18:15 Perspectives for the Parliament-Commission Relationship

Keynote speech:

Klaus Welle | Secretary General of the European Parliament

¦ Speakers

Selma Bendjaballah

Jim Cloos

olivier Costa

Renaud Dehousse

Maria José Martinez Iglesias

Hussein Kassim

Stéphanie Novak

olivier Rozenberg

Klaus Welle

Sciences Po Paris

General Secretariat of the EU Council of Ministers

Sciences Po Bordeaux/College of Europe

European University Institute

European Parliament

University of East Anglia

University of Venice

Sciences Po Paris

European Parliament
---