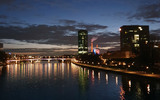 © Anton Bussemaker
23 and 24 September 2019
Press room, Großmarkthalle, European Central Bank, Frankfurt am Main
In the aftermath of the Great Financial Crisis, inflation developments have once again become a subject of discussion among researchers and policymakers alike, both in the euro area and beyond. The aim of this conference is to enhance participants' understanding of the drivers and dynamics of inflation by showcasing frontier research into the topic from academia and policy institutions.
Programme
*

An asterisk indicates the author presenting the relevant paper.
Monday, 23 September 2019
10:00
Registration and coffee
10:30
Welcome remarks
Luc Laeven, Director General Research, European Central Bank
Session I: Price setting 1
Chair and discussant: Fernando Alvarez, University of Chicago
10:45
Price synchronisation and cost pass-through in multiproduct firms: Evidence from Danish producer prices
-

Mark S. Kristoffersen, Danmarks Nationalbank

-

Gabriel Zullig, Danmarks Nationalbank and University of Copenhagen
11:15
Multiproduct pricing: Theory and evidence from large retailers
-

Carlos Carvalho, Pontifcia Universidade Catolica do Rio de Janeiro

-

Sigal Ribon, Bank of Israel

-

Rodolfo Rigato, Harvard University
12:15
Keynote speech
Chair: Massimo Rostagno, Director General Monetary Policy, European Central Bank
Monetary policy and the link between unemployment and inflation
Silvana Tenreyro, Bank of England and London School of Economics
13:00
Lunch and poster session
Session 2: Inflation expectations
Chair and discussant: Michael Weber, University of Chicago Booth School of Business
14:30
Monetary policy announcements and expectations: Evidence from German firms
-

Zeno Enders, University of Heidelberg and CESifo

-

Gernot J. Müller, University of Tübingen, CEPR, and CESifo
15:00
How does consumption respond to news about inflation? Field evidence from a randomized control trial
-

Olivier Coibion, UT Austin and NBER

-

Dimitris Georgarakos, European Central Bank

-

Maarten van Rooij, De Nederlandsche Bank
16:00
Coffee break
16:30
Session 3: Supply side factors
Chair and discussant: Ekaterina Peneva, Federal Reserve Board
16:15
Understanding low wage growth in the euro area and European countries
-

Christiane Nickel, European Central Bank

-

Elena Bobeica, European Central Bank

-

Eliza M. Lis, European Central Bank

-

Mario Porqueddu, European Central Bank
16:45
Adjustments along the intensive margin and wages: Evidence from the euro area and the US
-

Guido Bulligan, Banca d'Italia

-

Elisa Guglielminetti, Banca d'Italia
17:15
Joined at the hip? Inflation and demography through time
-

Mikael Juselius*, Bank of Finland

-

Elöd Takáts, Bank for International Settlements
18:15
End of day one
19:00
Conference dinner - by invitation only
Dinner speech by Philip Lane, member of the Executive Board, European Central Bank
Tuesday, 24 September 2019
8:45
Coffee
Session 4: Sources of price stickiness
Chair and discussant: Klaus Adam, Oxford University
9:00
Pipeline pressures and sectoral inflation dynamics
-

Frank Smets, European Central Bank, Ghent University and CEPR

-

Jan Van Hove, KU Leuven and KBC
9:30
The flattening of the Phillips Curve and the learning problem of the central bank
10:30
Keynote speech
Chair: Frank Smets, Director General Economics, European Central Bank
A Phillips Curve for the euro area
Laurence M. Ball, Johns Hopkins University
11:15
Coffee break
Session 5: Price setting 2
Chair and discussant: Volker Hahn, University of Konstanz
11:30
The Real Effects of Monetary Shocks: Evidence from Micro Pricing Moments
-

Matthew Klepacz, College of William and Mary

-

Ernesto Pasten, Central Bank of Chile and Toulouse School of Economics
12:00
Price trends over the product life cycle and the optimal inflation target
-

Henning Weber, Deutsche Bundesbank
13:00
Lunch and poster session
Session 6: International dimensions of inflation
Chair and discussant: Natalie Chen, Warwick University
14:30
International food commodity prices and missing (dis)inflation in the euro area
Gert Peersman*, Gent University
15:00
Dissecting the impact of imports from low-wage countries on French consumer prices
-

Juan Carluccio, Banque de France and University of Surrey

-

Erwan Gautier, Banque de France and University of Nantes
15:30
Asymmetries and non-linearities in exchange rate pass-through
-

Logan T. Lewis, Federal Reserve Board

-

Robert J. Vigfusson, Federal Reserve Board
16:30
Concluding remarks
Luis De Guindos, Vice-President, European Central Bank
17:00
End of conference
For those participants interested in furthering their knowledge on the use of big data at the ECB, please stay in the room after the conference for the "ECB data science hackathon award ceremony: Machine learning for automated product classification". The ceremony is scheduled from 17:00-17:30 and will feature short presentations by the winners of the hackathon.
Poster Session 1 (Monday)
Measuring biases in expectation formation
-

Florian S. Peters, University of Amsterdam
Inflation expectations and firm decisions: New causal evidence
-

Olivier Coibion, UT Austin and NBER

-

Yuriy Gorodnichenko, University of California, Berkeley
Monetary policy, firms' inflation expectations and prices: Causal evidence from firm-level data
Inflation and professional forecast dynamics: An evaluation of stickiness, persistence, and volatility
-

James M. Nason, NC State University
The link between labour costs and price inflation in the euro area
-

Matteo Ciccarelli, European Central Bank

-

Isabel Vansteenkiste, European Central Bank
Poster Session 2 (Tuesday)
Wages and prices in the euro area: Exploring the nexus
-

Antonio M. Conti, Banca d'Italia
The Pervasive Role of Retail Chains in French Price Dispersion
-

Patrick Sevestre, Greqam-AMSE, Université Aix-Marseille
Nonlinear inflation forecasting with recurrent neural networks
-

Niek Andresen, TU Berlin
Low pass-through and high spillovers in NOEM: What does help and what does not
-

Thomas Lejeune, Liège University

-

Ansgar Rannenberg, National Bank of Belgium

-

Raf Wouters, National Bank of Belgium
The effects of price endings on price rigidity: Evidence from VAT changes
-

Doron Sayag, Israel Central Bureau of Statistics

-

Avichai Snir, Netaya Academic College
This programme may be subject to change without notice.
Audiovisual notice: Please note that media will be attending and photography and filming activities will take place during the event.
General information
Conference venue
European Central Bank
Main building, Press room, Grossmarkthalle
Sonnemannstrasse 20
60314 Frankfurt am Main
Fax: +49 69 1344 6000
Poster session venues
Press room lobby
Conference language
English
Transfers
Participants are requested to arrange their own transfers, unless indicated otherwise.
Organising committee
Michael Ehrmann, Marek Jarocinski, Eliza Lis, Christiane Nickel, Chiara Osbat, Andrej Sokol (all European Central Bank)
Contact
Conference email address: inflation-conference2019@ecb.europa.eu
Linda de Leeuw
Directorate General Economics
---
Inhoud
sopgave van deze pagina:
De Europese Centrale Bank (ECB) is verantwoordelijk voor het monetaire beleid van de Unie. De basisdoelstelling van de ECB is het handhaven van de prijsstabiliteit binnen de eurozone en daarmee het bewaken van de koopkracht en het beheersen van de inflatie.
Met ingang van september 2014 speelt de ECB ook een rol in het toezicht op een deel van de Europese banken.