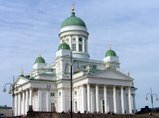 The main event highlighting the Economy of Wellbeing approach, which examines the two-way relationship between wellbeing and the economy. The conference aims to generate cross-sectoral dialogue on the themes for use in the forthcoming Council conclusions on the Economy of Wellbeing.
The event will have a live webcast. Join the conversation on Twitter: #economyofwellbeing #EU2019FI
Contact persons:
Noora Saarinen, [email protected] tel. +358 295 163 039
Communications, [email protected], tel. +358 50 523 6797
Background information on the Economy of Wellbeing
This conference is funded by the European Union's Health Programme (2014-2020)
The content of this conference represents the views of the author only and is his/her sole responsibility; it cannot be considered to reflect the views of the European Commission and/or the Consumers, Health, Agriculture and Food Executive Agency (CHAFEA) or any other body of the European Union. The European Commission and the Agency do not accept any responsibility for use that may be made of the information it contains.
Agenda
Wednesday 18 September
13.00 Opening session
Moderators: Annika Damström, Journalist and Nicklas Wancke, Journalist, Yle
Ima Iduozee - Garden Of Eden (revisited)
Jean Sibelius - Belshazzar's Feast, JS 48: Act II: Prelude: Nocturno
Welcome and opening remarks
Tuula Haatainen, First Deputy Speaker, Finnish Parliament
Video message
Marianne Thyssen, Commissioner for Employment, Social Affairs, Skills and Labour Mobility, European Commission
13.30-14.30 Plenary Session - Interlinkage Between Well-Being And Economic Policy
Wellbeing and growth in our Union: Renewing the promise of upward convergence
Carsten Stender, Director-General, Germany
Video message: Interlinkage between Well-being and Economic Policy — Theoretical overview of the concept of Economy of Wellbeing and publication of the OECD report
Marco Mira d'Ercole, Head of Division, OECD
Commentary address — Well-being and Banking policies in Europe: Towards a Financial System that Serves Society
Daniela Gabor, Professor of Economics and Macro-Finance, University of the West of England Bristol
14.30 Coffee and networking break 15.15-17.15 Parallel Sessions Session A: Reducing Inequality & Providing Equal Opportunities
Inequality, growth and well-being: connecting the dots
Naila Kabeer, Professor, London School of Economics
Panel discussion
-

Digitalisation of Health and Social services - possibilities and challenges / Tanel Kiik, Minister of Social Affairs, Estonia

-

Social rights - fundamental rights / Michael O'Flaherty, Director, European Union Agency for Fundamental Rights

-

Addressing inequalities in the area of employment and social inclusion / Katarina Ivankovic-Knezevic, Director, DG for Employment, Social Affairs and Inclusion, European Commission

-

Health promotion and its influences on well-being and economy / John F. Ryan, Director, DG for Health and Food Safety, European Commission

-

Equal opportunities in education / Minna Kelhä, State Secretary, Finland

-

Guaranteed minimum income with SDG aspect / Olli Kangas, Professor of Practice, University of Turku; Program Director, Strategic Research Council, Academy of Finland
Session B: Investing In Capabilities In Changing World
EU Social Policy and the Economy of Wellbeing
Caroline de la Porte, Professor, Copenhagen Business School
Panel discussion
-

Investments in people's capabilities / Patrick Develtere, Principal Adviser for Social Policy, European Political Strategy Centre

-

Gender equal economies / Virginija Langbakk, Director, European Institute for Gender Equality

-

Quality healthcare improving wellbeing and economic performance / Tadas Leončikas, Senior Research Manager, Eurofound

-

Mental health in the changing world of work and society / David McDaid, Professor, London School of Economics

-

Social security in the changing world of work / Paul Schoukens, Professor, KU Leuven

-

Future world of work and occupational safety and health / Yogindra Samant, Chief Medical Officer, Norwegian Labour Inspection Authority
17.15-17.45 Wrap-up session of Day 1 and introduction for Day 2
Keynote
Krista Kiuru, Minister of Family Affairs and Social Services, Finland
Thursday 19 September
9.00 Opening of Day 2
National wellbeing and resilience of the economy: systems perspective
Elena Rovenskaya, Acting Deputy Director General/CEO, International Institute for Applied Systems Analysis
9.15-11.15 Plenary Session — Sustainable, Inclusive Economy In The Framework Of Sustainable Development And Agenda 2030
Moderator: Annika Damström, Journalist / Nicklas Wancke, Journalist, Yle
Economy of Wellbeing and implementing the Agenda 2030: sustainability, investment and well-being aspects of the Economy of Wellbeing
Kerstin Jorna, Deputy Director-General, DG for Economic and Financial Affairs
Panel discussion
-

What is globalisation and decent work in 2030? / Timo Harakka, Minister of Employment, Finland

-

The role of health systems to ensure implementing SDG3 for all / John F. Ryan, Director, DG SANTE

-

Health security — a global challenge / Päivi Sillanaukee, Permanent Secretary, Ministry of Social Affairs and Health

-

Climate change and well-being / Marja Järvelä, Professor Emerita, University of Jyväskylä

-

Migration and equal labour market participation / Pieter Bevelander, Professor, Malmö University
11.15 Coffee and networking break 11.45-13.30 Plenary Session — Europe in 2020 — Promoting Economy of Wellbeing
Ministerial Round table
-

Krista Kiuru, Minister of Family Affairs and Social Services, Finland

-

Lena Hallengren, Minister for Health and Social Affairs, Sweden

-

Ildiko Horvath, Minister of State for Health, Hungary

-

Linas Kukuraitis, Minister of Social Security and Labour, Lithuania

-

Nicola Blackwood, State Secretary Baroness, UK

-

Marija Pletikosa, State Secretary, Croatia

-

Ana Sofia Antunes, Secretary of State of Inclusion of Persons with Disabilities, Por-tugal

-

Maria Kaisa Aula, State Secretary, Finland
Stakeholders' comments
-

Piotr Sadowski, President, Social Platform

-

Leo Williams, Director, European Anti-Poverty Network

-

Rebekah Smith, Deputy Director for Social Affairs, Business Europe

-

Pirjo Väänänen, Representative of European Trade Union Confederation
13.30-13.45 Closing session
Economy of Wellbeing - a way for sustainable future Europe
Aino-Kaisa Pekonen, Minister of Social Affairs and Health, Finland
Events in Helsinki 16-22 September 2019
welfare and wellbeing economy
---
Inhoud
sopgave van deze pagina:
In deze instelling van de Europese Unie (kortweg 'de Raad van Ministers' of nog korter 'de Raad' genoemd) zijn de regeringen van de 27 lidstaten van de EU vertegenwoordigd. De Raad oefent samen met het Europees Parlement de wetgevings- en begrotingstaak uit. Dit houdt in dat de Raad zijn goedkeuring moet geven aan elk wetsvoorstel van de Europese Commissie en aan elke voorgestelde EU-begroting. Nationale regeringen kunnen dus via de Raad invloed uitoefenen in de EU. De Raad neemt ook beslissingen over het buitenlands- en veiligheidsbeleid.