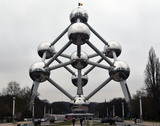 © Kevin Bergenhenegouwen
The EU-US Summit on 3 November is expected to endorse in its Declaration the setting up of an EU-US Energy Council and task it with several missions. A first meeting of the EU-US Energy Council
will take place
immediately after the Summit meeting
in
Washington.
The first full ministerial-level EU-U.S. Energy Council should convene as soon as possible and preferably no later than by the end of 2009.
It is in the interests of both the European Union and the United States to deepen their bilateral energy cooperation to address the growing challenges of global energy security, sustainability and climate change.
The EU-US Energy Council would provide a new framework for deepening the transatlantic dialogue on strategic energy issues of mutual interest. It would also be the platform for cooperation on energy policies and strengthening the ongoing collaboration on energy technologies.
Inhoud
sopgave van deze pagina:
Ensuring security of energy supply, developing competitive markets and meeting the environmental challenges are at the top of the EU and US political agendas. The EU and the US agreed to develop strategic cooperation on energy and energy security, presented in a joint declaration at the EU-US Vienna Presidential Summit on 21 June 2006. This cooperation contributed to increased regional stability, greater security of supply and finally, new business opportunities. The dialogue with the US is part of the EU external policy to serve Europe's energy interests.
On June 12, 2009, the US Administration proposed to the EU the setting up of a EU-US Energy Council (EUEC) to deepen the existing energy dialogue structures. On 16 September, the European Commission and the Presidency sent a joint reply to the US welcoming the proposal and offering three broad areas for enhanced cooperation: (1) energy policies, (2) global energy security and markets and (3) energy technology research cooperation.
Technical Briefing during the briefing for the EU-US Summit (timing TBC)
Video and photo coverage by EbS.
European Commission website on bilateral cooperation for Energy: http://ec.europa.eu/energy/international/bilateral_cooperation/usa_en.htm Commissioner Piebalg's website: http://europa.eu/comm/commission_barroso/piebalgs/team_en.htm European Commission website on International cooperation in Research http://ec.europa.eu/research/iscp/index.cfm Commissioner Potocnik's website: http://ec.europa.eu/commission_barroso/potocnik/indexfl_en.htm
Ferran Tarradellas Espuny
+32.229 66.293
ferran.tarradellas@ec.europa.eu
Catherine Ray
+32 22969921
Marilyn Carruthers
+32 229 99 451
marilyn.carruthers@ec.europa.eu
Sophie Andersson
+32 2 295 02 08
10
---
Deze instelling van de Europese Unie kan worden beschouwd als het 'dagelijks bestuur' van de EU. De leden van de Europese Commissie worden 'Eurocommissarissen' genoemd. Elke Eurocommissaris is verantwoordelijk voor één of meerdere beleidsgebieden. Momenteel zijn er 27 Eurocommissarissen, voor elke lidstaat één. Samen vormen zij het college van Eurocommissarissen. De Eurocommissarissen moeten het belang van de Europese Unie als geheel behartigen, niet dat van hun eigen land.
De Europese Commissie mag als enige EU-instelling wetsvoorstellen indienen; zij heeft het zogenaamde recht van initatief. Daarnaast controleert de Commissie of de Europese wetgeving juist wordt toegepast in de lidstaten, onderhandelt zij in internationale organisaties als de Wereldhandelsorganisatie (WTO) over de handel van de Unie met het 'buitenland' en is zij verantwoordelijk voor het beheer van de Europese begroting van ongeveer 140 miljard euro per jaar.