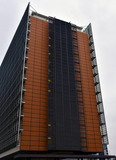 © Kevin Bergenhenegouwen
80 million Europeans live below the poverty threshold. This figure will dramatically increase due to the consequences of the current economic crisis. This violates the EU principles of solidarity and social justice.
In response, 2010 will be the "European Year for combating poverty and social exclusion".
Four cross-disciplinary objectives will lie at the heart of this European Year:
-

Recognition of the fundamental right of persons experiencing poverty and social exclusion to live in dignity and to take an active part in society;

-

Shared responsibility and participation: promote public support for social inclusion policies, emphasising collective and individual responsibility in combating poverty and social exclusion, and fostering commitment by all public and private actors;

-

Cohesion: promote a more cohesive society, where no one doubts that society as a whole benefits from the eradication of poverty;

-

Commitment and practical action: renew the pledge of the EU and its Member States to combat poverty and social exclusion, and involve all levels of authority in the pursuit of that aim.
The first event for 2010 is a media event on the theme "crisis, poverty and media".
---
Inhoud
sopgave van deze pagina:
Deze instelling van de Europese Unie kan worden beschouwd als het 'dagelijks bestuur' van de EU. De leden van de Europese Commissie worden 'Eurocommissarissen' genoemd. Elke Eurocommissaris is verantwoordelijk voor één of meerdere beleidsgebieden. Momenteel zijn er 27 Eurocommissarissen, voor elke lidstaat één. Samen vormen zij het college van Eurocommissarissen. De Eurocommissarissen moeten het belang van de Europese Unie als geheel behartigen, niet dat van hun eigen land.
De Europese Commissie mag als enige EU-instelling wetsvoorstellen indienen; zij heeft het zogenaamde recht van initatief. Daarnaast controleert de Commissie of de Europese wetgeving juist wordt toegepast in de lidstaten, onderhandelt zij in internationale organisaties als de Wereldhandelsorganisatie (WTO) over de handel van de Unie met het 'buitenland' en is zij verantwoordelijk voor het beheer van de Europese begroting van ongeveer 140 miljard euro per jaar.