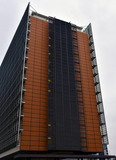 © Kevin Bergenhenegouwen
This year the calendar is ideal: 9 May – the anniversary of the Schuman Declaration in 1950 which led to the first European treaty (ECSC) being signed – falls on a Saturday.
On 9 May the Berlaymont building – headquarters of the European Commission – will hold an open day for the public. Last year the event attracted 55 000 people and became a major public festival, indicating people's interest in Europe and its institutions.
Inhoud
sopgave van deze pagina:
The open day gives ordinary people a chance to understand what the European Union has actually achieved in their daily lives. Visitors can also obtain practical information on job and trainee opportunities at the Commission.
Various events will enliven the day which is intended to provide both education and fun.
Inside the Berlaymont building:
-

A comic book competition around the themes of "justice, liberty, security".

-

Visitors will have a chance to be a "translator or interpreter for the day".

-

A new exhibition to mark the 20th anniversary of the collapse of the Iron Curtain.

-

Children get to explore development issues and problems in the village "Europe in the world" with interactive games like trying out a water carrier or walking through a mine field etc...

-

A quiz on the EU for 24 participants at a time.

-

A film entitled "Nous nous sommes tant haïs" (How we hated each other), chronicling the events which led up to the Schuman Declaration, will be shown.

-

Visitors may visit the Commission meeting room on the 13th floor of the Berlaymont building.
In front of the Berlaymont building :
-

A look back on 10 years of the euro.

-

Live music throughout the day by various groups and bands, comprising mainly Commission officials.

-

Circus artistes and apprentices will perform for young and old alike.

-

Demonstration by the Murcie fire brigade to show how they respond to a "112" call.

-

The Foire de Libramont (Libramont agricultural fair) will provide a tangible example of innovation in agriculture with a demonstration of making fuel from rape seed.
Since 2009 is European Parliament election year, there will also be a "suggestion box" where people can express quite freely what they hope and expect of Europe.
The Commission will hold the open day for the public to celebrate the Festival of Europe from 10 a.m. to 6 p.m. (for security reasons last entry will be at 5.30 p.m.).
EbS coverage + phot coverage
The source:
Information about the open day can be found on the website of the European Commission representation in Belgium:
Willy Hélin +32 2 295 38 44 willy.helin@ec.europa.eu
Joe Hennon +32 2 295.35.93 joseph.hennon@ec.europa.eu
---
Deze instelling van de Europese Unie kan worden beschouwd als het 'dagelijks bestuur' van de EU. De leden van de Europese Commissie worden 'Eurocommissarissen' genoemd. Elke Eurocommissaris is verantwoordelijk voor één of meerdere beleidsgebieden. Momenteel zijn er 27 Eurocommissarissen, voor elke lidstaat één. Samen vormen zij het college van Eurocommissarissen. De Eurocommissarissen moeten het belang van de Europese Unie als geheel behartigen, niet dat van hun eigen land.
De Europese Commissie mag als enige EU-instelling wetsvoorstellen indienen; zij heeft het zogenaamde recht van initatief. Daarnaast controleert de Commissie of de Europese wetgeving juist wordt toegepast in de lidstaten, onderhandelt zij in internationale organisaties als de Wereldhandelsorganisatie (WTO) over de handel van de Unie met het 'buitenland' en is zij verantwoordelijk voor het beheer van de Europese begroting van ongeveer 140 miljard euro per jaar.