1.

What are audiovisual works? What are audiovisual media services?
The term audiovisual work is commonly understood to refer to a set of moving images, with or without sound, including, for example, feature films, shorts, documentaries, TV dramas, cartoons etc.
Audiovisual media services are services which are offered "under the editorial responsibility of a media service provider" and their principal purpose is the provision of programmes (in order to inform, entertain or educate) to the general public by electronic communications networks. An audiovisual media service is either a television broadcast or an on-demand audiovisual media service.1
2.

How relevant are audiovisual or cinematographic works for the EU economy? How do they perform compared to elsewhere in the world?
The audiovisual sector in the EU is thriving. The EU records the second highest TV viewing figures globally, produces more films than any other region in the world, and is home to more than five hundred online video-on-demand services.
See table overleaf.
The European TV market is the second largest regional market in the world, after the US. It grew by 12% between 2006 and 2010, with over half of that growth occurring between 2009 and 2010 to reach an annual turnover of €84.4 billion in 2010. The European share of the global TV market remained stable at around 29% in 2010.2
Number of films produced in 2009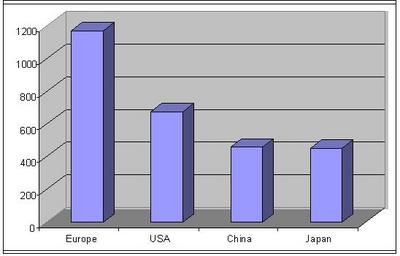 Bron: Europese Commissie: Rapid persberichten
Source: European Audiovisual Observatory3
3.

What EU rules are currently applicable to audiovisual services?
The Audiovisual Media Services Directive sets horizontal rules for audiovisual media service providers. The Directive upholds core societal values, from protecting minors to ensuring accessible services for people with hearing or visual impairments. It promotes the cross-border availability of audiovisual media services by making it clear that each service must comply with the rules of the country in which its provider is located.
As far as copyright is concerned, many contributors enjoy economic rights in audiovisual works (authors, performers). These economic rights are usually transferred to the producer by law or by contract. This enables the producer to licence the majority of forms of exploitation of an audiovisual work, including on-demand uses.
In the specific case of broadcasting services, the 1993 Satellite and Cable Directive sets a framework for copyright clearance processes to facilitate the cross-border transmission of broadcasts between Member States. In the case of satellite operators, it provides that broadcasting rights should only be cleared ("the act of communication occurs solely") in the Member State where, under the control and responsibility of the broadcasting organisation, the programme-carrying signals are introduced into an uninterrupted chain of command leading to the satellite and down towards the earth. For cable retransmission, it provides for a system of compulsory collective management to facilitate the clearing of rights by cable operators.
4.

What are the issues facing the distribution of audiovisual works in the EU?
Until recently, broadcasters' activities consisted mainly of broadcasting over the air, satellite or cable. In order to use audiovisual works, broadcasters needed to clear the reproduction rights and the broadcasting/communication rights of authors, performers and producers to the public.
However, broadcasters nowadays make at least a portion of their programming available on an on-demand basis (catch-up TV services and downloads). Most of the major European TV channels provide a catch-up TV service offering news, magazines, series and feature films. But in order to provide these on-demand services, broadcasters need to clear a different set of rights, namely the making available right as well as the reproduction right. When they distribute these services beyond the territory of the initial broadcast, they need to clear the rights for each additional territory.
Secondly, new digital platforms have enabled programmes to be retransmitted simultaneously across different networks. Operators of DSL,4 IPTV5, mobile networks and other digital platforms such as DTT6 now also operate broadcast retransmission services. As copyright licensing for cable retransmission is governed by the rules of the Satellite and Cable Directive, the question arises as to whether these provisions need to be reviewed to develop a more technology-neutral framework, i.e. one that is not limited to cable, for the cross-border retransmission of audiovisual media services.
Thirdly, the emerging market for Video on Demand (VoD) (including rental and downloads) services in Europe is dynamic, diverse and growing rapidly, and it is predicted that VoD turnover in Europe will increase dramatically over the next few years. With the development of over-the-top Video,7 IPTV and connected TV,8 television channels, cable network and broadband operators and new entrant service providers will compete to provide VoD services.9 The landscape is further characterised by the fast development of social networking and social media sites such as Facebook and Youtube, which rely on the creation and upload of online content by end-users (user-generated content), and the advent of "cloud-based" services.10 So far, multi-territory VoD services as such have largely not emerged. Large providers in the EU such as Chello, Amazon's Lovefilm, Sony's Qriocity and Itunes for example tend to focus their services on local audiences, addressing customers in their local language and offering locally preferred films and subtitling or dubbing requirements. The question arises whether any changes would be needed to the regulatory framework to facilitate the emergence of multi-territorial services in the EU.
In some cases, and for some rights holders, copyright clearance appears to involve significant administrative effort and transaction costs. The Green Paper aims to understand the scale and the scope of any problems, to understand whether difficulties can be overcome by technological solutions, and whether other measures would be appropriate in a fast-changing environment.
5.

What are the specific challenges for European film production?
Although the EU has become one of the largest producers of films in the world, European films represent only an estimated 25% of cinema admissions in the EU compared to US films which have a 68% market share.
This reflects the fact that the European industry is confronted with some unique structural characteristics including the language and cultural specificities and preferences of national markets and the limited availability of financial sources. The European audiovisual sector is deeply fragmented and consists of a large number of small- and medium-sized enterprises (SMEs).
The MEDIA programme,11 which has developed in response to the fragmented nature of European cultural markets, provides a successful support mechanism to the multi-territory availability of European films, and to emerging VoD platforms - MUBI, UNIVERSCINE, and EUROVOD are all supported by the MEDIA programme.
The Green Paper asks a number of questions around current practices for the licensing and distribution of European films with a view to promoting the Europe-wide distribution of the European film catalogue.
6.

What is the issue with the remuneration of authors and performers?
For the most part, authors and performers transfer their exclusive economic rights to the producer in return for a lump sum or "buy out" payment for their contribution to an audiovisual work (writing and/or directing etc). It is not the norm for authors to receive a per use remuneration for primary uses of their work such as cinema exhibition or the sale of DVDs. Equally, the majority of Member States do not provide a framework for audiovisual authors to receive a "per use" payment for the online exploitation of their works. It could be argued that authors have no economic benefit from the online exploitation of their works if no proportional remuneration is being passed on a per use basis. It is important to assess what would be the best way to ensure that authors' and performers' remuneration adequately reflects the success of audiovisual works.
7.

How is this Green Paper related to the Single Market Act, the Commission's Intellectual Property Rights (IPR) Strategy and the Digital Agenda?
In the Single Market Act12 and the IPR Strategy, the Commission underlined its commitment to ensuring that collective management of copyright must be able to evolve towards European models which facilitate licences covering several territories. An updated legal framework should enable new business models to emerge, leading to a wider and targeted distribution of creative content to more mobile consumers.
Under the Digital Agenda for Europe, the Commission is committed to report by 2012 on the need for additional measures, beyond the facilitation of collective rights management, to allow EU citizens, online content services providers and right-holders to benefit from the full potential of the digital single market.13 An in-depth analysis of the existence and range of obstacles to the development of a digital single market is needed before the Commission will be in a position to draw conclusions. This consultation is intended to provide empirical data that will assist the Commission to make an accurate assessment of whether - and if so what - further measures may be required.
8.

What are the next steps?
Stakeholders are invited to send in their contributions by 18 November. The Commission will report in 2012 on the need for additional measures, beyond the facilitation of collective rights management, to ensure that the EU is able to benefit fully from the potential of the digital single market.
More information:
http://ec.europa.eu/internal_market/copyright/index_en.htm
1 : See the Audiovisual Media Services Directive (2010/13/EU): "a service as defined by Articles 56 and 57 of the Treaty on the Functioning of the European Union which is under the editorial responsibility of a media service provider and the principal purpose of which is the provision of programmes, in order to inform, entertain or educate, to the general public by electronic communications networks within the meaning of point (a) of Article 2 of Directive 2002/21/EC. Such an audiovisual media service is either a television broadcast as defined in point (e) of this paragraph or an on-demand audiovisual media service as defined in point (g) of this paragraph"
2 : Idate News 541, 12 January 2011.
3 : The European Audiovisual Observatory's Focus 2010 - World Film Market Trends
4 : DSL (Digital Subscriber Line) provides digital data transmission over a telephone network.
5 : Internet Protocol television (IPTV) is a system through which digital television service is delivered using the architecture and networking methods of the Internet Protocol Suite over a packet-switched network infrastructure, e.g., the Internet and broadband Internet access networks.
6 : DTT (Digital Terrestrial Television) is the transmission of broadcasts in digital form on radio frequencies. As analogue terrestrial television, DTT is received by an aerial antenna.
7 : Usually refers to video services delivered through devices outside the traditional video delivery structure such as internet-connected set top boxes, tablets or games consoles.
8 : Describes the integration of the internet into television sets (internet enabled TVs).
9 : At the end of 2008, 33% of VoD services in Europe were originally TV service providers; 17% telecom operators; 14% content aggregators; 9% subsidiaries of US majors. Other providers of VoD services included cable and satellite operators, film companies, retailers, multimedia publishers and equipment manufacturers - European Audiovisual Observatory, 'Video on demand and catch-up TV in Europe', October 2009, p.116
10 : Cloud computing refers to the use of multiple server-based computing resources via a digital network. Contrary to classic computing, the user of a cloud-based service no longer stores data and applications on the user's computer but on the service operator's servers which may be located in another country. The user can then access his data through a network, usually the internet, from any place.
11 : MEDIA is the EU support programme for the European audiovisual industry. See further at: http://ec.europa.eu/culture/media/index_en.htm
12 : "Single Market Act - Twelve levers to boost growth and strengthen confidence; Working together to create new growth", COM/2011/0206 final, 13 April 2011
13 : A Digital Agenda for Europe: COM (2010) 245 of 19.05.2010, p. 10
---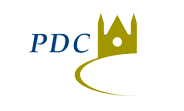 Ook redacteur worden van deze site?
Bekijk onze stagevacature