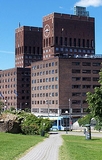 15th - 17th October 2012 Oslo, Norway
Planning to move? Processes and consequences for collections, objects and society
Call for papers and poster presentations
The main conference theme is the planned transport of objects and collections. This congress aims to be a professional commentary on society`s desire to relocate objects of cultural heritage value: collections, individual objects, buildings and other built structures.
Museums/Institutions from several Nordic countries have extensive relocation projects, either planned or underway. This initiative from the IIC Nordic Group - NKF aims to bring together the preservation community and colleagues from other professions to share knowledge and experiences on issues surrounding relocation.
CONFERENCE SUB-THEMES
Monitoring
Temperature, relative humidity, vibration, displacement and stress are parameters that can be measured with sophisticated sensors and logging systems. Which systems are relevant for monitoring and evaluating package design and method of transportation? What are the experiences of using different monitoring methods? What are the current limitations regarding practical aspects (such as defining standards for acceptable change/limits)? Which new technology may we adapt and benefit from?
Relocation of public art
Works of art in public spaces are in most countries protected by laws that protect both the artist and the work itself. The relocation of public art can be problematic. Who is affected when sculptures, buildings and museums are moved? If the individual work of art is made specifically for a building, space or landscape will its artistic intention be weakened by removing it from its original location? How does relocation of cultural heritage influence the site from which it has been removed, to which it has been moved to and the community in general?
Cooperation and teamwork
Moving processes require cross-disciplinary cooperation. Which professional groups should or would in fact work together in a moving process? Experiences with good communication - and forms of cooperation to ease the moving process are particularly welcome.
Moving projects
Packaging standards and logistics when moving collections or individual objects. Requirements and measures in relation to the relocation of fragile, large or small objects. Moving objects inside a museum is also a moving project.
WHO SHOULD ATTEND?
Conservators, collection managers, scientists, museum directors, professionals who work with risk analysis, managers of cultural heritage, architects, engineers, transport and logistics managers and others who are interested or involved in moving works of art. This congress will hopefully gather professional communities within and outside the field of conservation to discuss aspects surrounding planned relocations.
CONTRIBUTIONS
Conference participants are invited to submit abstracts based on transport projects in the planning phase, those underway or completed, as well as abstracts based on general ideas or reflections on relocation, practical experience and research.
The author should indicate whether the contribution is intended to be a full paper or a poster.
Abstracts should include the title, name(s), affiliation(s) and e-mail addresses of the authors. Author information and abstract text should not exceed one A4 page.
Abstract deadline: October 1st, 2010.
Please send abstracts as an attached document by email to Ida Bronken:
idbronke@online.no
Filename: SurnameFirstAuthor_NKF2012
Or by fax to The Norwegian Institute for Cultural Heritage Research (NIKU):
Fax 0047 23 35 50 01, marked NKF 2012.
Presentations and posters will be selected on the basis of relevance to the conference themes, academic quality and for their potential to reach a mixed audience.
Notification of acceptance will be given by November 1st, 2010.
LANGUAGE
The main language of the conference will be Norwegian. Contributions in Norwegian, Swedish, Danish or English are welcome.
PREPRINT
The peer-reviewed articles based on the selected presentations will be published in a preprint. Posters will be presented in the preprint without peer-review.
REGISTRATION
Invitations for conference registration will be sent out in 2011.
LOCAL ORGANIZERS
Ida Antonia Tank Bronken, paintings conservator Munch-museum (Coordinator), Tone Olstad, paintings conservator /researcher Norwegian Institute for Cultural Heritage Research, Anne Ørnhøi, paintings conservator Norwegian Institute for Cultural Heritage Research, Tanja Reed, objects conservator Aust-agder cultural heritage centre, Mette Maske, paper conservator, Sverresborg Trøndelag Folk Museum, Susan Braovac, archaeological conservator, Museum of Cultural History, University of Oslo.
---
Het International Institute for Conservation of Historic and Artistic Works (IIC) is een onafhankelijke non-profit organisatie die zich sinds 1950 toelegt op het wereldwijde behoud van historisch en artistiek erfgoed. De individuele leden van het instituut zijn afkomstig uit de wetenschap. Daarnaast zijn ook instanties als musea en onderzoeks- en opleidingscentra aangesloten bij het IIC. Het instituut is gevestigd in Londen.
Het instituut dient als internationaal forum waar vakspecialisten op het gebied van het behoud van cultureel erfgoed met elkaar in contact kunnen treden. Door middel van publicaties en het organiseren van conferenties tracht het IIC de kennis, methoden en standaarden binnen het werkveld te bevorderen. Verder wil het instituut het openbare bewustzijn rondom historisch en artistiek erfgoed verhogen aan de hand van het verstrekken van studiebeurzen en het uitreiken van prijzen.